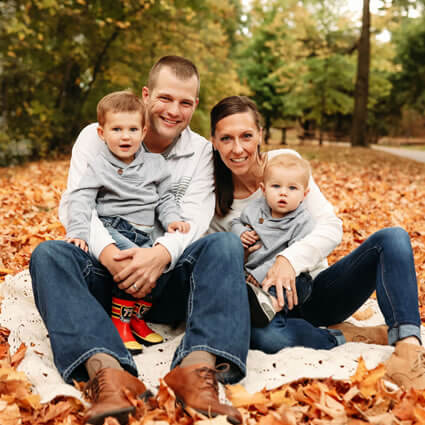 Meet Dr. Angie Schroyer
Practicing Chiropractic
Hello everyone! I'm Dr. Angie Schroyer. I grew up in Thorp, WI and graduated high school from Lake Holcombe, WI. I went to college at UW-River Falls and proceeded on to chiropractic school to Northwestern Health Sciences University in Bloomington, MN where I graduated and have been practicing since 2010.
After graduating chiropractic school, I moved to Milwaukee where I started my career working in Waterford for 3 years. I then decided to move a little closer to home, and for 3 years, I worked in a large multidisciplinary clinic in La Crosse, before I finally decided to make my last move up to the Menomonie, WI area to fulfill my dream of opening my own practice.
Passion for Helping
I have a passion to help the people in my community to achieve their optimal health and well being, but have continued my education to focus on taking care of pregnant women and children. After experiencing pregnancy myself, I know the struggles and wear and tear our bodies endure throughout pregnancy and I want to help all women have a great experience during this magical time, but also have the delivery they desire. I love to help our pregnant women know that THEY are in control and in the driver's seat of their pregnancy. I want to help and support them anyway that i possibly can!
EXPLORE CHIROPRACTIC
Outside the Office
When I am not in the office, I live a very active lifestyle, but my two little boys really keep me going. As a family we love to hunt, fish, golf and watch sports together. I also make sure to take time for myself by practicing yoga two to three times a week to personally reflect and grow as a mom and business owner.
Impacting Others
My passion is to inspire as many people as possible to want to live a happy and healthy lifestyle. I am looking forward to impacting more lives in the Menomonie area.
Experience optimal health and wellness with natural chiropractic care. Book an appointment today!

Dr. Angie Schroyer | (715) 235-6767