Meet Dr. Chad Barfknecht
When I was in college, my roommate got adjusted on a regular basis. At the time, I was a pre-pharmacy student and job shadowed numerous pharmacists. I discovered that they didn't like their jobs. They felt like they were just dispensing pills to people all day, never getting anyone better.
I realized, that wasn't what I wanted to do with my life.
Experiencing Improved Function
During my first chiropractic appointment that I went to with one of my teammates from basketball, I got scanned with the Insight Subluxation Station, the technology that is used at the office. Even though he told me I had imbalances all over the place, I felt amazing. Though I was in great shape, when I started getting adjusted I functioned better. I thought, "Wow, if you can get somebody who's healthy even better, what can you do for a person who is sick?"
Making the Switch to Chiropractic
With a new passion for chiropractic, I started job shadowing numerous chiropractors who all loved their jobs. They got to make their own hours and help people. As I had premed classes under my belt, it was an easy switch to chiropractic. I obtained my chiropractic education at Palmer College of Chiropractic. One of the biggest eye-opening moments for me, while I was at Palmer, was getting scanned with the Insight Subluxation Station, which made me realize that chiropractic is more than just pain management. I learned that chiropractic was about wellness and how you adapt to life.
EXPLORE CHIROPRACTIC
Focusing on Pediatrics and Pregnancy
After I graduated from Palmer, I worked as an associate doctor in the Quad Cities area for a year in a family wellness practice. In 2009, I bought the current practice from a husband and wife who had a practice for more than 20 years. After taking over the practice, I started focusing on pediatrics and an Epics Pediatrics practitioner. It's been gratifying to transition from a Medicare-based, pain-focused practice to one where we're building momentum in our town and are known as the place to take kids. I hold the following accreditations:
I also care for many athletes, including high school athletes and students at the University of Wisconsin-Stout.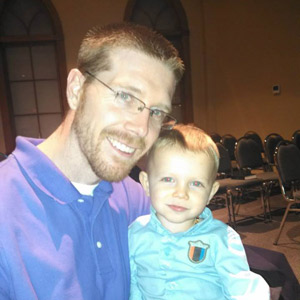 Enjoying an Active Family Life
When I'm not at the practice, my wife Lisa and I enjoy spending time with our five children: Reese, Bree, Zeke, Cole, and Grace. They like to play sports in the backyard, and Lisa and I can be found taking our kids to different athletic events and practices. Our children are part of the Hoops Club in Menomonie. Our family attends Alliance Church and are members of the Menomonie Market.
Experience optimal health and wellness with natural chiropractic care. Book an appointment today!

Dr. Chad Barfknecht | (715) 235-6767