New Patient Center at
Clear Connection Chiropractic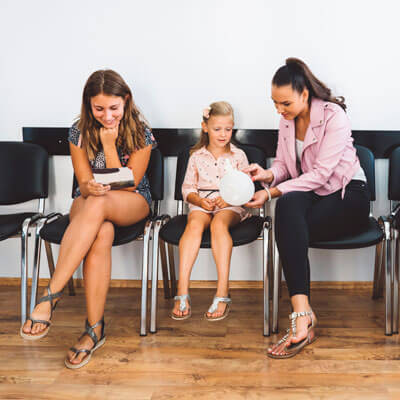 Welcome to Clear Connection Chiropractic! One of the first things you'll notice about our practice is our fun and laidback atmosphere. Easy listening or Christian music will be playing, and our friendly and warm staff enjoy spending time with our patients. Small children will be kept busy in the play area, complete with blocks and coloring books. You'll feel right at home and made to feel like family! Rest assured, however, that despite our lighthearted environment, you always will receive exceptional, professional care.
After we greet you, we'll take an extensive health history to get a well-rounded picture of who you are and what your lifestyle is like. You can expect the following:
An examination
A consultation
X-rays
A substation scan
This visit takes about 60 minutes. When you arrive we will have you fill out some intake forms, and collect anything else we may need from you. Then we will run a couple different scans to see what is going on underneath the skin, beyond what the Doctors can feel with their hands. This includes a heart rate variability scan, a spinal thermography scan, as well as a surface EMG. All of these scans will help the doctors understand what your body needs, and the doctors will go over all of these scans with you upon the second visit. After all three of the scans are finished you will go over your health history with the Doctor, and they will determine if you will be adjusted on the first visit. During this time you also have the opportunity to ask about any questions or concerns you may have. We do have an X-ray station in the office, if the Doctor feels X-rays are needed.
When you return on the next visit, we'll go over the results of your three scans, as well as an individualized care plan to best suit you and your goals. This visit also provides you the time, as a patient, to ask any questions you may have. This visit takes about 20 minutes.
When you return for regular visits, you will be seen promptly with no more than a 5-minute wait. You'll get adjusted and then be on your way. Our entire staff works as a team to ensure your needs are met, and help you with your health goals. 
Informative Workshops
At Clear Connection Chiropractic, we are passionate about educating patients about the benefits of natural and effective chiropractic care. We hold the following workshops at the practice:
Perfect Storm: A few times a quarter we usually hold our Perfect Storm class where we talk about sensory processing, autism, ADD and ADHD, ear infections and other common children's issues.
Healthy Living: Occasionally we'll teach a healthy living class that discusses the importance of chiropractic and living a healthy lifestyle to stay well.
In addition to workshops, we also have a lending library. You can check out movies, DVDs, and books about natural health. Get started on the path toward better health. Schedule an appointment today. We're open late and offer same-day appointments.
CONTACT US

New Patients at Clear Connection Chiropractic | (715) 235-6767